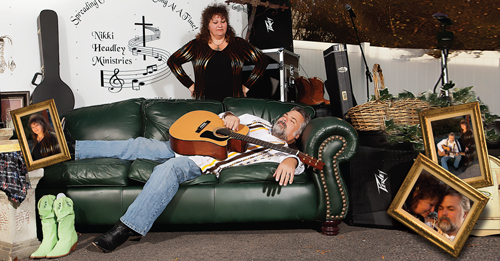 Chip and Nikki Headley…you will often hear them both refer to each other as soul mates. They have found their calling into full time ministry and their purpose to be encourage-rs. Together they have been traveling to share Jesus with others for twenty plus years SPREADING GOD'S WORD ONE SONG AT A TIME!
Originally from Virginia and now living in Tennessee, they take the good news to many churches, retirement homes, assisted living and nursing homes, senior group meetings, coffee houses, home parties, benefits, county and state fairs, parades and many other organizations and venues for the "soul" purpose of spreading God's word in song.  Any where the Lord leads, they go.
They have been recognized and received awards that they believe is one way God has used to bring more opportunities to serve Him. They have visited many radio stations and made several TV appearances. One of the most treasured blessings has been to perform at The Grand Old Opry.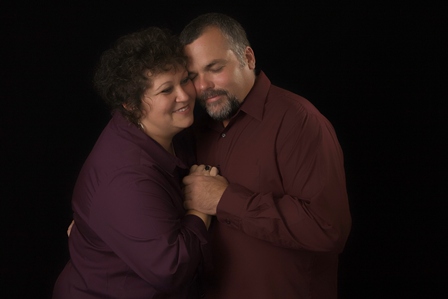 The couple have six CD projects to date and a new CD being released soon in 2017.  Many of their original songs have been released for national and international radio air play and internet. It was a blessing to them as each single released would debut in the TOP 100. Some even TOP 40, TOP 20 and TOP 10.  One of their singles, "How Could You Not Believe" made it to the #2 position.  Since 2012, Chip and Nikki have been recording with Chapel Valley Studios in Sharps Chapel TN where they now reside.
For a short time Nikki and Chip were blessed to have their own radio show called The Gospel Showcase with Chip & Nikki on 1340AM – WHAP in Hopewell, VA -also online at www.1340whap.com/. This radio show allowed them to touch the hearts of many through radio with Southern Gospel, Christian Country & Bluegrass Gospel music from the new ministries and artists they met while traveling. They feel strongly about supporting and encouraging others. Sharing testimony, divine appointments and road stories was a favorite of the listeners. But most of all, they used this venue as a resource to celebrate, rejoice, and rejuvenate together in JESUS' name.  Now you can find them on Facebook and follow them as they continue their journey for the Lord.  
Chip and Nikki believe it is the strength, love, prayers and overwhelming support of everyone that has helped the ministry to be where it is today and JESUS who has made it all possible. They are blessed and honored to glorify their Savior-JESUS CHRIST and welcome every opportunity to share Him through their ministry. 
If you would like for Chip and Nikki Headley to come to your event please contact them. 
nikkiheadleymail@yahoo.com
804-221-2491
 PO BOX 212 Sharps Chapel TN 37866